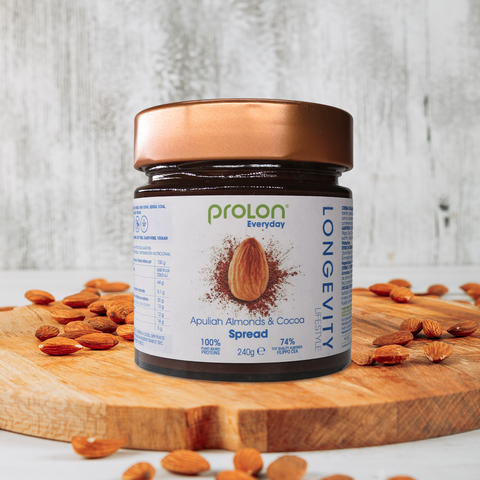 or 3 installments from €0,00interest-free with
ProLon® Longevity Spread
Product information
€39,00
Reviews
4.7 out of 5 stars
Protein source
Dairy Free
0 % palm oil
Vegan
Rich in vitamin E, calcium and magnesium
Gluten Free
Longevity Spread - ProLon everyday
Almond and Cocoa Spreadable Cream
Our spreadable cream is an excellent source of protein, with a high fibre content, processed using modern technology, which does not alter the flavour and makes it very fine and enveloping to the palate.
The Longevity spread is made of 74% pure Apulian almond variety 'Filippo CEA', one of Longevity's ingredients, and 14% unsweetened cocoa.
Without fats or proteins other than those, naturally present in almonds and cocoa
A Perfect Example of Longevity and Tradition.
Our almond variety "Filippo CEA" is a top-quality product cultivated in Apulia and known worldwide. Thanks to the flavour and properties of this precious seed, which is a source of oleic acid, vitamin E, calcium and magnesium, we have developed a high-quality spreadable cream allowing you to maintain a healthy and balanced lifestyle, promoting well-being and longevity.
Treat yourself. Just the way you like it.
On bread for breakfast

Tastes great on toasted Protein Bread
Straight off the spoon

When you crave something good
For baking and cooking

Create delicious recipes
★★★★★

Ottimo prodotto, lo uso ogni mattina a colazione.

Maria Lamanna

- Verified User
★★★★★

La consistenza delle mandorle mi ha stupito. Ideale per una colazione salutare a casa. La ricomprerò!

Roberto

- Verified User
★★★★★

Ottima crema spalmabile, altissimo contenuto proteico. La mangio spesso prima di andare in palestra. Qualitativamente superiore rispetto alle altre creme in commercio.

Gianni

- Verified User
★★★★★

Sono vegana ed è la crema più buona che io abbia mai mangiato! Grazie Prolon!

Serena

- Verified User